Posted on Tuesday, August 18th, 2015 by under .
Michelle Rosquillo, GA
In her opening address this morning at the 124th State of the Campus Address, UNCG Provost Dr. Dana Dunn enumerated the highlights of the past year, including groundbreaking expansions such as the construction of Spartan Village on Lee St, a dormitory built specifically to accommodate the rapid increase in freshman numbers. She also made special mention of the downtown Union Square Campus project–a partnership between UNCG, NCA&T, Guilford Tech, Cone Health, and others–that is slated to become a state-of-the-art medical facility and training ground for nursing education and healthcare professions, including the Doctor of Nursing Practice.
Dr. Dunn presented an outpouring of state and national rankings in which UNCG made prominent appearances, among them (for the 17th year in a row, as she pointed out) Princeton Review's list of best colleges in the nation; US News and World Report, ranking UNCG's School of Education program in Counseling and Educational Development as #2 in the nation; Ohio State University's recent report which puts UNCG's Department of Human Development and Family Studies at #7 nationally; and Bloomberg's 2013 ranking of the Bryan School of Business at #13 in the country. Perhaps the most impressive number thrown out, however, was $1 billion–that is, in a statewide study conducted last year, UNCG's economic impact on the Triad area was estimated to be around $1 billion.
As prestigious and renowned as UNCG has become among our local and national communities of higher education, it is imperative that we feel secure under the guidance of a strong leader, a figure whose vision for the students and faculty is limitless and unequivocal. This past year began the search for a successor to former chancellor Dr. Linda Brady, which culminated in the appointment of Dr. Franklin Gilliam. When Chancellor-Elect Gilliam took the stage, he spoke of "the legacy of opportunity, of engagement with our community, of commitment to social justice" that he sees as hallmarks of UNCG's history dating back to its infancy as the Woman's College in the early 20th century.
Dr. Gilliam's passion for higher education and keen awareness of the challenges faced by the institution was evident in every word he spoke. He acknowledged the growing crisis of student debt and the impact of debt on students' choices of profession, pledging to "seek external support" for student tuition in the form of fellowships and scholarships. He also spoke on the very real phenomenon of states reducing support for public education, citing a 23% decrease in North Carolina funds per capita between 2008 and 2015. His quirky, upbeat nature signaled his intention of tackling the statistics head-on in a bid for greater investment in public and higher education.
The audience responded well to Dr. Gilliam's humor and articulate observations. As he stepped away from the podium, joking that he'd been advised not to do so, the assembly laughed in appreciation while he launched into what was no less than a lecture–kinetic, emphatic, and worthy of any anthropology instructor–on the culture of higher education.
Calling culture "the most important component of any successful organization," Dr. Gilliam explored his most treasured cultural values, such as collaborating for the benefit of the "shared fate" of the university, holding a common standard of excellence, remaining accountable and innovative ("Think like we're working at a start-up…without the ping pong tables," he advised), and maintaining a level of transparency (a point met with an immediate round of applause) and inclusion from the top down.
His last point? To have fun. Addressing the question of how to maintain a work-life balance, Dr. Gilliam grinned and declared to much laughter, "We're in college! We should get joy out of this."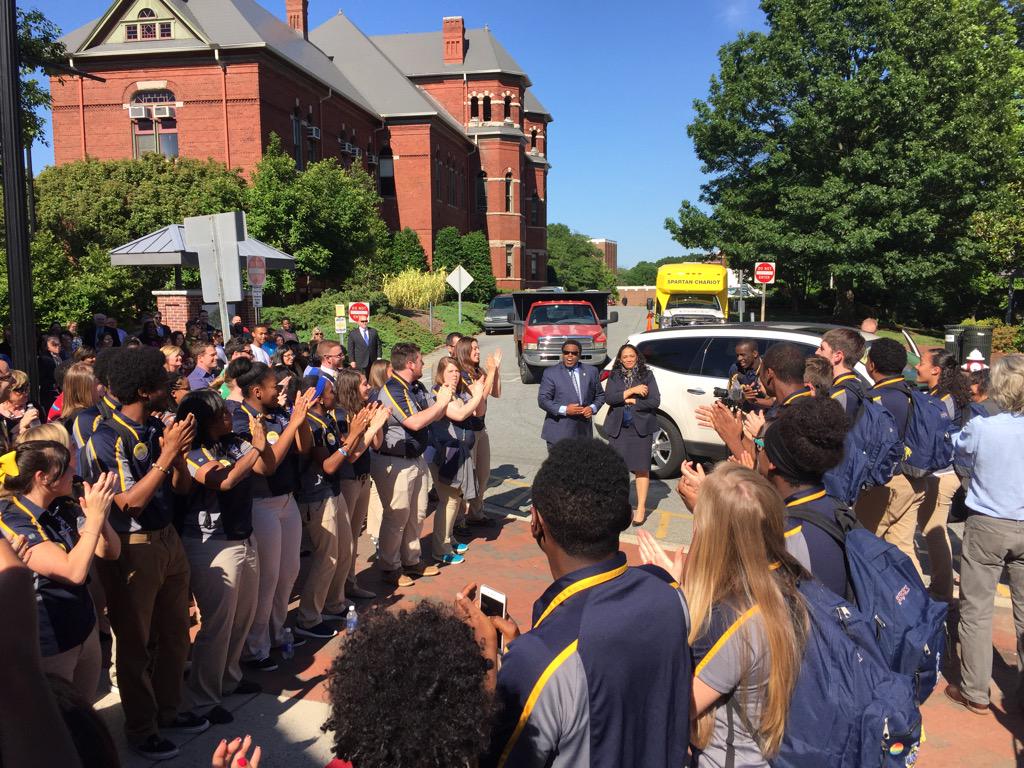 He closed his speech by returning to the podium and, simply and sincerely, asking for the help of his colleagues, the faculty, the staff, and the students in addressing the challenges presented and continuing to achieve and promote the outstanding quality of education that has become synonymous with UNCG's name. Pointing to the main screen which advertised the title of the assembly, Chancellor-Elect Gilliam stated, "One hundred twenty four years. We're not going anywhere. We are here. We're part of this community."
To watch recordings of Dr. Gilliam's speech, click here.